The winner of our Christmas in July Grand Prize Package
Thanks so much to everyone who participated in our fun Christmas in July presented by KaLightoscope Christmas at the Galt House Hotel at three of our local Fazoli's restaurant locations! The folks at Fazoli's were so friendly and helpful to us and we truly appreciate them.
We were joined at the events by some of our favorite friends including Santa, Buddy Bat, and Tony Tomato!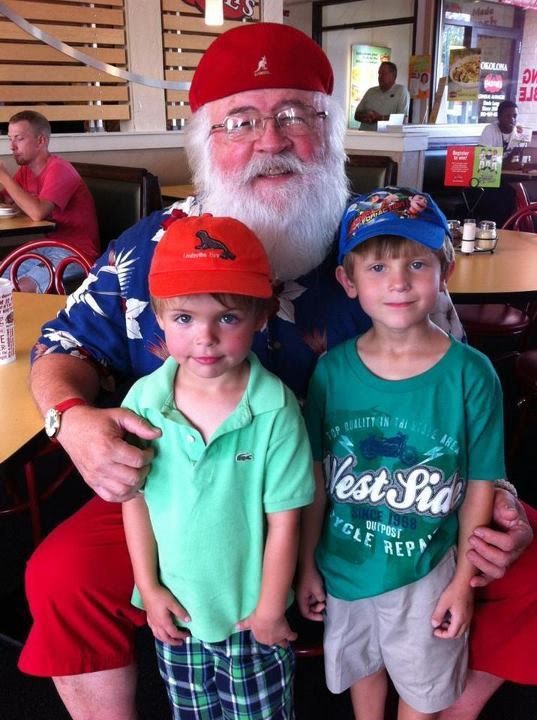 We were also joined by some wonderful vendors who contributed to our Grand Prize Package! Please give a warm Thank You to Kalightoscope, The Galt House Hotel, Usbourne Books, Pink Zebra, Jamberry Nails, Happy Family Brands and KidStuff Sale!
And we can't forget our friends from Blue Bell Ice Cream, NuLu Scooters, Derby City Throttle Jockeys and Patriot Roofing!
Throughout the Christmas in July events we were collecting school supplies for Backpack Angel and were very proud of the contribution you all made!
Christmas in July wrapped up a few days late with our Summer Luau at Woodhaven Country Club! We always enjoy working with Woodhaven and they have been quite generous with us! If you haven't checked out their pool and golf course you are really missing out!
Without further ado the winner of the Grand Prize Package is Allison S.! Please contact This email address is being protected from spambots. You need JavaScript enabled to view it. to claim your prize!